The Ultimate Forex Traders Package™ is designed to prepare you to trade the forex. Forex education is as important for experienced day traders as it is for beginner forex traders.
The Ultimate Forex Traders Package™, developed by Forex Mentor Jared F. Martinez, is a dynamic, interactive and innovative method of providing students with the most comprehensive Forex Education program available. Utilizing live online interactive Forex mentoring, in-depth Forex Video CD and workbook training modules, online Forex trading classes and on-site 2–day Forex classes. This in-depth forex education package also includes Forex trading and charting practice software, forex tools and unlimited support.
Market Traders Institute provides traders the ability to take advantage of the foreign currency exchange, so it doesn't take advantage of them! Empowering our clients to become world-class forex traders! Fill out the form to the right to learn more!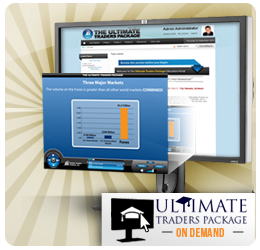 Get the first lesson of the UTP On Demand Free [SF-FORM lead_source_detail="Jared Martinez" offer="UTP" lead_type="Education" return_url="http://www.jaredmartinez.com/thank-you-2″] CHECK OUT OUR TESTIMONIALS HERE